Hello friends!
Its Tuesday, which means time for another HOO are you? :) Here are the questions this week...
1. Do you type on a keyboard the correct way or do you peck like a cute little chick?
I type the correct way....and it drives me NUTS when I am around someone that does not. I wanna make them move over and just do it myself. (I am not a control freak, promise) ;)
2. Typically how long does it take you to get ready in the morning?
I can get myself ready in 30 min. If I have to get the family ready it takes about an hour.
3. Do you prefer lip gloss or lipstick?
Gloss! I've never been a fan of lipstick. My MIL wears lipstick ALL.THE.TIME. and I wish I was as good at remembering it as she is. It's just one of them things that makes a "women" in my eyes...I just can't do it.
4. Do you take clothes to the dry cleaner or wash them yourself even if they say dry clean only?
I wash everything! I've never had a problem washing them myself. Till I do....no dry cleaner for me! Why spend the extra money if you don't need to?
5. Do you prefer Wal Mart or Target.
Target! All the way! Just wish I was closer to one. :) And I'm kinda on a Wal-Mart ban right now. lol
That's it about me. Wanna play along? Hop on over the
Night Owl Crafting
and join!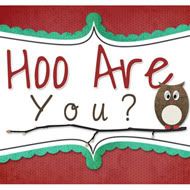 Have a great day!!